Shopping Cart
Your Cart is Empty
There was an error with PayPal
Click here to try again
Thank you for your business!
You should be receiving an order confirmation from Paypal shortly.
Exit Shopping Cart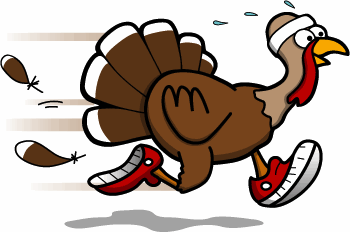 Where can I p/u my packet? For people who are pre-registered, Bibs, T-shirts and goodie bags can be picked up on Tuesday 11/22, Wednesday 11/23 from 5-7 at Main Street Center (118 S. Main Street, Wauconda). They are also available the morning of the race starting at 7:30am at Main Street Center.
Online Pre-registration is closed...what can I do? You can still register the day of the race starting 7:30am at Main Street Center (118 S. Main Street) . We can not guarantee a T-shirt or goodie bag, but we will do our best to accommodate you.
Can I run or walk with a baby stroller or my dog? Baby strollers, small children and dogs are welcome but only on the 2 mile fun run/walk for safety reasons.
Can I reserve a shirt in a certain size? When you check the box next to a t-shirt size on your registration form, you are not reserving a shirt; you are helping us plan how many shirts we need to order in each size. If it is important that you get a shirt in your size, please come early. We do our very best to accommodate everyone!
Where does the money raised from this race go? All the proceeds from this race go to benefit the Wauconda/Island Lake Food Pantry, and participants are encouraged to bring in non-perishable food items on race day to give to the Food Pantry.
Can I get a refund if I register but don't run? No. we plan the race based on the number of registered runners, so once you have registered we cannot offer you a refund. If, however, you register and do not run, you may still pick up your race packet and shirt and join us in the fun.
Can I run with headphones or ear buds? For safety reasons, we discourage the use of headphones on the course.
What will the weather be like? Good question! The weather in northern Illinois is variable in November, but you knew that! The expected temperature is going to be around 40 degrees, so dress accordingly! a gear check will be available for those who need it. But be prepared! The Turkey Trot will take place come rain or shine!
What distance is this race?
The 4 mile'r Turkey trot goes around Bangs lake and is 4 miles; the fun run/walk is about 2 miles on sidewalks.
Will there be bag-check facilty?
Yes, we will have a bag check for items at Threads Boutique, but please leave any valuables in your car.
Where is the water stop?
There is a water stop just after mile 2 along the 4 mile course. No water stop for the 2 mile fun run/walk
Where is the start and how do I get there?
The race starts and finishes at Main Street between Mill and bangs Streets, in front of Middleton's on Main on beautiful Main Street Wauconda.
What are the parking accommodations? We urge you to consider car-pooling but there is a public lot on Mill, parking at the Park District and street parking in the neighborhoods.
Can I take a shower after the race?
Yes, but it will have to be at home as there are no facilities available at the race!
Will there be an after-race celebration? Oh, yeah! Runners will enjoy a variety of snacks for participants (bananas, granola bars, etc) and food and drink items for purchase at Honey Hill Coffee, as well as music and the awards ceremony at 10:15am. We want you to be able to attend the Turkey Trot festivities and still be able to get home into time for Thanksgiving dinner!
Can I view the course before the race?
We prefer that you arrive early and walk or jog the course. Most of the race course is accessible before the race begins. A course map is available on the Course Route Tab of this website.
Where are the best locations for spectators?
The entire course is spectator-friendly but the best spots would be along Main Street to see the start, or Mill street at the finish.
How is the race timed?
Participants will wear a bib number with chip (4 mile only) and as the runners cross the Finish line they will be logged in. Results will be available soon after the race. Bib numbers must be attached to the FRONT of your shirt to be read accurately.
/